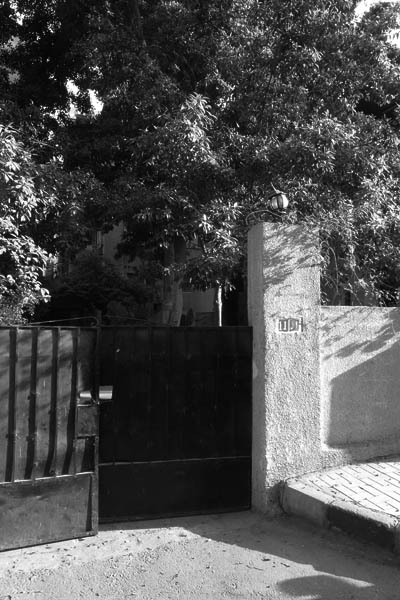 VISIT US
Beirut
11 Mahmoud Sedky
off Shaheen St.
Agouza, Cairo
OPENING HOURS

Sunday–Thursday, 12:00–20:00
ABOUT
Beirut
is a new art initiative and exhibition space in Cairo that considers institution building as a curatorial act. Our activities are centered around hosting artists, artworks, research projects and other institutions (locally, regionally, internationally) that wish to engage with similar questions we share concerning politics, economy, education, ecology and the arts. The space, a late 1940's three-storey villa surrounded by a little garden, is located in the neighborhood of Agouza in Cairo.
As institution, we wish to be mindful of the rapid changes we are experiencing in Egypt and the region. At this crucial time of transition, Beirut makes room to contemplate contemporary life from the position of art, and to provide a space of response. It acts as a forum through which the international community of artists, workers, poets, writers, filmmakers, activists, architects, thinkers and students can share their affinities and social sentiments, towards staking new grounds and taking up critical positions to reflect on this new and open situation.
Our aim is to foster a wider public by working closely with other institutions dedicated to art, film, literature, dance and music. With old and new voices, from the region and beyond, we are building stronger affiliations through our platform of practice. Within this framework, Beirut is dedicated to investigating the legal, financial and political histories of key art spaces, and forging new means of support, securing more autonomy, for art and artists in the region.

SUPPORT
Since its opening
Beirut
received structural funding from the Foundation for Art Initiatives (FfAI), the Young Arab Theatre Fund (YATF), and the Goethe Institute in Cairo.
The Imaginary School Program is supported by Arts Collaboratory.
Beirut's
activities in 2012–2014 have been realized with the financial support of the Arab Fund for Arts and Culture (AFAC), Kadist Art Foundation, Mondriaan Fonds, Institut Français d'Egypte, Embassy of France in Cairo, Rosa Luxemburg Foundation, Danish Arts Council, and the Goethe Institutes in Cairo and Alexandria.
We are deeply indebted to everyone who provided
Beirut
with structural support and generosity in the past years: Townhouse Gallery, Contemporary Image Collective, Nile Sunset Annex, Mada Masr, Medrar, FormContent, Kunstwerke Berlin, Schering Stiftung, Isabella Bortolozzi Berlin, Mohammed Abdallah, William Wells, Lina Attalah, Habiba Effat, Taha Belal, Hady Aboukamar, Carlos Amorales, Danh Vo, Brian Conley, Gabriel Lester, Nada Elshazly, Lawrence Abu Hamdan, and Sandra Terdjman.